The SBI! Summary Site
"Why build JUST a Web site...
when you COULD build a Web BUSINESS?"
---
Choose It!
See for yourself... No matter what other Web hosting platform you might be considering, use Choose It! to see how Site Build It! wins every time.
---
The Very ESSENCE, the CORE of What SBI! MEANS
the special free prize inside every e-box of SBI!... sense of freedom, self-reliance, joy of living, passion... all the things that REALLY matter.

This is what SBI! is ALL about. For the first time, EVER, we have actually identified what Site Build It! means to people - to you!
---
Quick Tour Slide Show
A fast step-by-step demo of how SBI! works.
---
The 30-Second Nutshell Version of CTPM (Content, Traffic, PREsell, Monetize)
We are all in a hurry... If you're at all serious about e-business, you'll get it (CTPM). And once you do, you'll see why SBI! is for you and your new online business!
---
Passion -- For SOHOs, startups, and newbies
This is ideal for the small business person just starting out (and there are zillions of folks in this boat, looking desperately for the perfect solution -- SBI! is it).
---
Compare


In addition to yourself, invite your visitors/readers/friends/colleagues to compare SBI!'s feature set with Yahoo! Web Hosting Pro, Verisign Web Business Expert and Microsoft bCentral Professional. The difference is striking...
---
Certified Webmaster Directory
"I love it, but I just don't have the time." Overcome this situation, here's SBI! Certified Webmaster Directory with plenty of experts to choose from to help quickly get your SBI! site and online business up and running!

---
Store Build It!
"The Perfect Store"
East meets West. Ying meets Yang. C-T-P meets M. Perfect.
---
Questions?


Go ahead... ask us a question. Put our phone/chat/e-mail SBI! Advisors to work for you.
What's included with SBI!?
Suppose you were to buy, from a variety of different vendors around the Internet, all the functionality that SBI! includes. Let's add up the total yearly value (amounts in table below are in US Dollars, USD)...
Function (if bought separately)

USD/year

Brainstorming and researching tools

$200

SiteSell Supply (Unique tool assesses REAL competition)

"Priceless"

Three unique "ultimate brainstormers"

$120

Sophisticated decision-making software (makes niche-choosing foolproof)

$60

Web/html/graphic designer (an inexpensive one)

$1,000

Hosting of your site (state-of-the Net speed & reliability, no limits)

$240

Automatic domain name annual renewal

$15

Special Page and Image Managing Tools (better than FTP)

"Priceless"

Unique Automated Site-Blogging

$120

Submit ("ping") unlimited URLs to Search Engines automatically via XML
(Automated updating and pinging of Sitemaps XML to Google and all major engines)

$120

Ranking Reports for your Keywords at all major Search Engines

$240

Unique Keyword search reports for Search Engines

$120

Ranking Reports for Directories

$240

Unique Keyword search reports for Directories

$120

Search Engine optimization

$200

Unique 2-Level Image Search Report

$120

SBI! Xpress, Tips HQ and Resources HQ
(All Net marketing is research done and digested for you, no need to "keep up.")

$120

4 Traffic HQs

$120

Pay-per-click research and bidding programs

$220

Click-in and Click-through Analysis

$200

E-zine Subscription and Mailouts
(Build your own lists with E-Newsletter, including SpamCheck & OpenRate.)

$240

Value Exchange

$180

Form Build It! (with CAPTCHA graphic-challenge)
(Automated Forms & Sequential Autoresponders)

$400

Link Fix It! (No more bad links, ever!)
(Automated scanning of all links, reports "bad links.")

$120

Full E-mail/WebMail With Spam 'n Virus Blast It!

$100

Monetize It! (A revolution in monetizing your site)

$480

Socialize It! (automated Social Media Marketing, a must)

"Priceless"

Private SBI! Forums

"Priceless"

Action Guide/Video Guide/"Guru-in-your-ear" help

"Priceless"

BRAND NEW! Content 2.0 (turns SBI! into SBI! 2.0)
(Take the full power of SBI! and put it to the power of Web 2.0)

"Priceless"

Total Value (in USD), if bought separately

$5,095 +
Priceless x 6

Click here to check out the order page to see for yourself what SBI! will cost and the plans available...

A cost you'll
appreciate
Even if you were to research the Net and piece together all these features at a cost of $5,000+, you would still be missing unique, priceless SBI! functionality. Here are just a few examples...
Brainstorm It! V3.0 has pushed keyword brainstorming and researching, as well as niche selection to a whole new level. Important and unique concepts like VALUE Demand and REAL Supply provide stronger guidance for content development. There are many other improvements, including brainstorming three Site Concepts at the same time. It all adds up to the world's first

smart

brainstormer, niche-picker, and keyword researcher.

No

other product automates the complex process of submitting your pages

and then automatically re-submitting

them to Google and all major engines, depending on whether and when your pages are spidered or indexed (all in a Search-Engine-friendly fashion, via the automated creation, updating and pinging of Sitemaps XML).
SBI! even enables you to give special instructions to the engines in the Sitemaps XML file, even if you don't know what "XML" stands for. And that's the point. SBI! provides the tools to achieve what you want (ex., "give this page more priority"). It takes care of the "techie how" without you ever worrying about that.
Just before

you build each page, SBI! analyzes that page and tells you

exactly

what to do, to

rank high and be found

at the engines.

After

it is ranking, SBI! even tells you how to rank higher and higher!

RSS/Blog It! converts your entire SBI! site into a blog. Only SBI! "site-blogs." This is a powerful new way to distribute your Web site to the world, with the mere click of a button... blogging to the power of two! It also automatically pings every major RSS engine/directory...

blogging2

(you can blog conventionally, too, if you are so inclined).

Only SBI! 2.0 delivers a true Web 2.0 platform for small e-businesses. It provides the content-building and traffic-growing power of such Web 2.0 powers as Facebook, Youtube, and Twitter to . SBI! has just become "SBI! to the power of 2.0."

Monetize It! identifies new, high-profit areas, maximizes your ad income, and is also the ultimate in cost-effective PPC-buying. Nothing like it exists, anywhere.

Since

everything

is integrated, only SBI! can run 24x7 across-the-site background functionality (unheard of even for professionals) that improves search results, optimizes value-exchange results, alerts you to broken links, and so forth... all automatically.
No other software does so much at any price... all at no added cost.
Add even more dollar-value due to the sheer productivity that Site Build It! delivers by providing all these features, all in one place, and all working together. What hourly dollar-value do you put on the bother-free time-saving of true integration?
And how much would a Webmaster, graphic designer, Search Engine expert, and computer programmer charge you, not just to get started, but to maintain your site? Add that in, too, because you don't need anyone else to succeed with SBI!.
SBI! is always up-to-date, too, saving you even more hours. For example...
No need for you to read 100+ Net-marketing e-zines --

we

do that.

New technology emerging? SBI! takes care of all that, too.

And do

not

worry if/when Search Engines change how they deliver search results. We

automatically

integrate changes into SBI!, so you

always

wring the most out of your site...

at no added cost and time for you.
What value can you possibly put on these hours-per-day-saving services alone? They free you to focus on your business, instead of struggling to stay up-to-date in the fast-paced, constantly changing, online business world.
No other product, or combination of products, comes close to this complete package. All the tools, all in one place, all for one price, and all tied together into a straightforward, integrated, step-by-step process that works.
Based on all that Site Build It! delivers, a yearly subscription should sell for $5,000+ per year. Good news though! It costs much less than one-tenth of that to renew SBI!.
Click here to check out the order page to see for yourself what SBI! will cost and the plans available...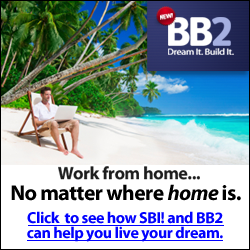 SiteSell.com around the globe!
SBI Introduction
...why we've been a SiteSell Affliate for so many years
SBI! makes online business success do-able. Anyone can succeed with an all-in-one process, tools, and guidance.
The process is simplified to such a degree that success (i.e., profits, not the mere presence of a Web site) is achievable even for a beginner. For an experienced person, achieving success is even smoother. SBI! really does change lives.
Yes, there are easier ways to build a Web site. However, online profits require more than just having a collection of Web pages. SBI! includes all the tools and a proven process required to build a long-term, profitable e-business.
You get more than just a "site builder." You don't need to worry about looking for separate hosting, paying for a separate keyword research tool, handling site submissions, integrating autoresponders, etc., etc. See the full list of features here -- pick the most relevant ones for you and your reader.
SBI! removes the technical barriers allowing you to keep your attention on building your business. Many functions are completely automated. You don't need to know anything upfront about building a Web site in order to succeed. The tedious, "under-the-hood" stuff is handled automatically so you can focus on other important business-building activities.
SBI! is the only product that takes the time to prepare you to build a profitable business, before you jump into building your site. For the beginner, your learning curve will be shorter and you'll bypass any show-stopping errors. For those experienced in site-building, SBI! deepens your level of understanding. No matter who you are, you are guided all the way until you succeed.
Continuous mentoring via the Action Guide and online help is always available. Learn by reading (written guide) or watching (video guide)! You are carefully guided every step of the way, which make success that much more do-able. Advanced help is also available (when you are ready for it), all designed to save you time and keep you moving forward.
SBI! comes with unlimited Customer Support. SBI! owners often call it the best they've ever experienced. And the SBI! Forums complete the picture. They are the most friendly, help-and-be-helped set of e-business forums in the world.
We started this Website before focusing on creating sites using the SBI! techniques and processes. Many pages are not anywhere near the level of 'professional' quality pages that you learn to create with the SiteSell.com team and the tools that come with your Site Build It! (SBI!) service. Ultimately are goal is to convert many of our Websites or at least many of the pages on them, to the SBI! approach to building truly professional pages and Websites.
In the mean time, please continue to visit our site, take some time to investigate SBI! for yourself (or someone you think might benefit from starting with or switching to the SBI! way of creating a profitable online business!
Who better to give you their perspective on how SBI! has changed their lives, and their business success...the folks that actually use and succeed with Site Build It!. take a few minutes and watch these heart-felt, passion-filled videos of SBI owners narrating how SBI! has changed their lives.

tm

We are strong believers in the Site-Sell! approach to doing business and provide over-the-top support for it's customers and affiliates (join today)!

Affiliate programs of interest to you? Take a few minutes today and see what we mean - literally plan a block of time to scan the wealth of services, support, member & customer forums, and opportunities for yourself and your potential customers. Then, sign-up TODAY (at no cost) and take advantage of these great services and products; begin introducing your customers to them TONIGHT!

We highly recommend Site-Sell & SBI! services and the products offered to affiliates and especially to our customers. These comments are from us, the team at I Want To Buy That! and dedicated Site-Sell! Affiliate...

And/or, if you'd like to start your own affiliate marketing online presence, click here to learn how SBI! can help you quickly launch a success affiliate Web site.

tm

"The Blog"

Here's a blog that might be of interest to you...

Composed of three parts: Ken Envoy's Blog (Site-Sell! founder), SiteSell Insider, and Zine Mailings), you can read the basic philosophy at Site-Sell!...

The Blog delivers Ken's insights into e-commerce and life, all that he' learned from hundreds of thousands of customers over the years. No tech-speak-hype-noise about the latest
and greatest widget or Web 2.0 company.

Just original insights into life, business, and success online. After you read the welcome page, poke around...

Online Auction Sellers
...free yourself from large auction site.
1) Own
2) Diversify
3) Build equity
Now auction sellers can build real businesses that they own.

As you think about the type of business you want to create (or upgrade/enhance), you'll undoubtedly begin to think about Pay Per Click (PPC) advertising. These products, AdWords Dominator & Keywords Analyzer may be just the ticket you need to help pick the right keywords, and to manage your Google AdWords account(s)... Definitely worth investigating further!
Independently Rated World #1 for Keyword Research...
Top international review site, Keyword Workshop, tested the world's top keyword
research programs to destruction. And this one came out on top.
Read more...
Here's a service we use extensively, be sure to take advantage of this excellent FREE service from tinyURL.com


Enter a long URL to make tiny: